Congratulations to our 2020 Champions, MJ and Russell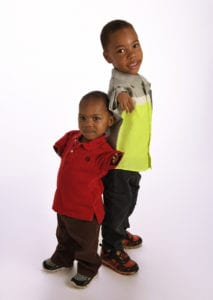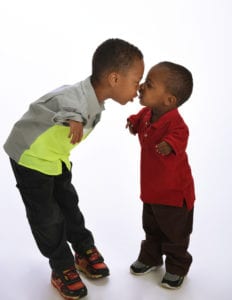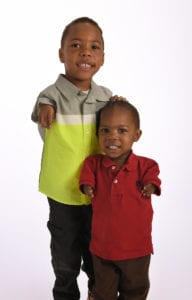 We are proud to announce MJ and Russell Williams as our 2020 Kansas City Market Champions! MJ and Russell will serve as CMN Ambassadors for KU Medical Center and will be featured on various campaign materials throughout the year to localize all fundraising efforts for CMN of Greater Kansas City. The boys were also introduced to a bit of stardom in January when they were asked to share their miracle story on CMN co-founder, Marie Osmond's Instagram! We are excited to see MJ and Russell shine bright as Champions this year!
MJ and Russell share a very special bond. They are brothers, best friends and both have a rare genetic disorder called Thrombocytopenia with Absent Radius (TAR) Syndrome which was discovered at each of their 12-week ultrasounds. TAR Syndrome is characterized by the absence of the radius bone in each forearm. This diagnosis has created challenges from the moment the boys were born but that has not stopped them from living full and active lives.
Caring for MJ as a newborn was much like the experience every other parent would expect, but as he grew, so did the obstacles.  MJ learned quickly how to hold his bottle with his feet and would roll to move around the room because crawling wasn't an option.  With the assistance of physical therapists, occupational therapists and Infant and Toddler Services, he found adaptations to get from a laying to a sitting position.  They also worked on strengthening MJ's core muscles and balance to substitute for not having full use of his arms to get from sitting to a standing position.  And walking was another challenge he overcame with the help of a protective helmet and strategically placed furniture. Most recently, MJ discovered that by propping up his controller with a pillow, he can play video games.
Russell adapted very quickly to life because he was able to learn so much from watching his brother navigate through the world.  When he was one year old, he was also diagnosed with Pelvic Kidney and Ventricular Septic Defect, which continue to be monitored. Otherwise, both boys live relatively healthy lives.  They are seen regularly at KU Medical Center Pediatrics to make sure they continue to stay healthy.
Today, MJ is an active six-year-old who loves first grade. He enjoys riding his skateboard and scooter and playing outside. Russell is a rambunctious three-year-old who likes to play with blocks, race cars and ride his tricycle. They meet each new challenge TAR Syndrome brings them with an "I'm going to figure it out," attitude, a mindset that has been instilled by their parents and admired by everyone they meet.