Three Cheers for our 2021 Champion, Brandon Kellogg!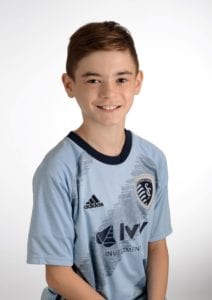 We are very excited to announce Brandon Kellogg as our 2021 Kansas City Market Champion! Brandon will serve as CMN Ambassadors for KU Medical Center and will be featured on various campaign materials throughout the year to localize all fundraising efforts for CMN of Greater Kansas City. We are proud to have Brandon represent our mission and the inspiring year ahead.
Brandon has had a tough medical journey in his short 10 years and because of that has a special understanding and compassion for others who are facing difficult challenges. He has always been a fighter and is rewriting medical textbooks because of all that he has been through and conquered starting the day he came into this world.
Brandon was born 6 weeks early at the University of Kansas Medical Center. The day after he was born, he had to have exploratory surgery and was diagnosed with Christmas Tree Bowel Atresia. This is a rare form of Small Bowel Atresia in which 75% of his small intestines were removed because they were wrapped around his mesenteric artery in the shape of a Christmas Tree and were no longer viable. He was also born with Hypodactyly which means he is missing almost half of his fingers.
Brandon spent 7 months in the NICU where he battled central line infections, bacterial overgrowth, meningitis, blood clots, and had several different procedures and surgeries. The next several months were spent in and out of the KU Pediatric Unit and PICU for line infections and different illnesses associated with his condition. He has had countless surgeries, scopes, procedures and tests performed on him.  With every hospital stay over the years, Brandon and his family always walk out of KU Medical Center feeling grateful and confident that they just received the best care possible so that Brandon can lead his best life possible. And he is doing just that!
Although he faces daily trials because of his diagnoses, he lives a relatively normal life and has learned to take pride in his differences and accept them as they are. Brandon is very active 10-year-old who loves to play Xbox, building LEGO sets and cheering on Sporting KC. Most importantly, he loves spending time with his family and his little brother Jack, whom he calls his best friend!
Congratulations, Brandon!