Club Car Wash Cares!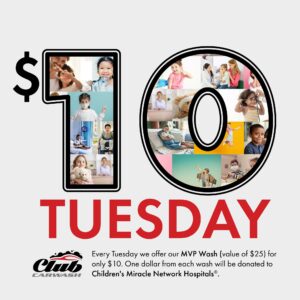 We are thrilled to welcome Club Car Wash as our new fundraising partner. Club Car Wash is a family operated business whose owners know firsthand the importance of supporting children's healthcare initiatives. Their son fought and won his battle with childhood cancer twice at MU Children's, Columbia's CMN Hospital. The goal of Club Car Wash is to make sure that no child will have to go through what their son did and using their business as a fundraising platform was an easy commitment.
Now, Club Car Wash and their over 30 locations in the Central United States are supporting local CMN Hospitals all year long with their Ten Dollar Tuesday campaign. On Tuesday's their MVP wash, a $25 value, will be discounted to $10 and $1 will be donated to KU Medical Center. Currently, we have Club Car Wash locations in Lawrence, Ottawa and Sedalia. Next time you see a Club Car Wash, swing on by for an MVP wash and support KU!
Thank you, Club Car Wash, for caring for kids in our Greater Kansas City community!